When you think of wallpaper, what probably first comes to mind is patterned wallpapers like floral images, or even geometric patterns, both of which are on trend right now. But if you have a passion for travel you might want to consider incorporating your love for that into the décor of your home, or office space.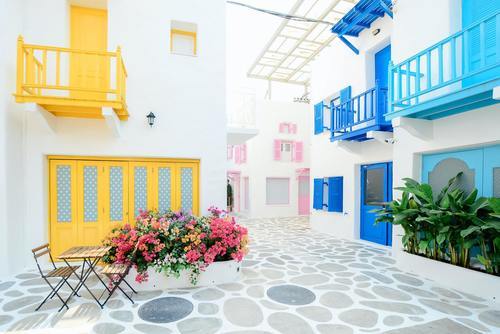 Murals
Mural wallpapers are a quick and easy way to bring a little of the rest of the world into your home. Some popular choices are scenes from around the Tuscany region in Italy, or the Greek Islands like Santorini. These mural style patterned wallpapers work in a different way to standard patterned wallpaper, where you have to match the edges of the paper to create smaller recurring patterns that cover the wall. The mural is just one large image, sized to fit the wall perfectly.
Some popular images are not just simple landscapes, other tourist hotspots like the Golden Gate Bridge or the Grand Canyon make stunning murals, if you have visited these places and would love to have a reminder of your visit that you can see every day, you might want to consider one of these.
Farther Afield
If your love of travel takes you a little farther, for example if you have a passion for astrophysics, you might want to have a mural with a space theme. The space shuttle taking off, one of the Hubble images, such as the Orion Nebula, or an image of the Milky Way as seen from earth, they too will make for a breath-taking talking point for when you have visitors over.
You can get a mural of the map of the world. You can mark on it the places you have seen and the places you would love to go to. It can be inspiration, and also an education. If you have smaller children it may also help to teach them about geography.
What else?
If a mural is not what you are looking for then what other travel themed wallpapers are there? You can get standard patterned wallpaper with images on them suitable for a child's bedroom or playroom, with a space theme such as the solar system. They can have cars and planes on them.
Some patterned wallpaper comes with images of huge leaves, such as those on a banana tree. If you have a love of the outdoors, maybe you are a keen camper, this can help to bring a little of the outside into the home, and many people find this comforting and relaxing.
It is hard to think that choosing the right wallpaper could have such a positive effect on our health, but the images you choose and the colour scheme you opt for can have such a huge impact on your life, getting it right is important.